QUALITY and DURABILITY
CURVA DECKS
Unique and made from a combination of press formed rock maple laminates to achieve a balance of strength, flex and durability.
CURVA AXLES, NUTS & BOLTS
Made of high quality stainless steel, for strength and anti-rusting properties.
CURVA WHEEL MOUNTS
Unique hand crafted quality stainless steel.
CURVA IN-LINE WHEELS
Lightweight split rims, turf tread pattern pneumatic tyres with quality high speed sealed bearings.
CONTROL WHEELS
Lightweight split rims, turf tread pattern pneumatic tyres with quality high speed sealed bearings.
CURVA BINDINGS
4 bolt adjustable snowboard style.
FEATURES

The CURVA six wheel board was created to get that fluid boarding feel, without relying on snow, waves or concrete and to achieve the adrenaline rush everyone wants, with the advantage of being able to board ride EVERYWHERE, ALL YEAR !!!
THE SIX WHEEL COMBINATION
CURVA boards have a unique six wheel layout. In the centre of the board, between your feet are tandem in-line wheels that gives you a floating feeling while the outside control wheels provide instant response, precise turning smooth transitions and stability.
CONTROL
A combination of surface, angle of slope and control of your board will determine your speed.  The more you turn, the slower your speed... the more you head downhill the faster you go!
CROSS TRAINING
GREAT CROSS-TRAINING for snowboarding, surfing, skateboarding and other board sports.
SKID PLATE
The skid plate at the rear of the board provides extra braking, protection for the deck and can be used in many tricks and slides.
TERRAIN
| | |
| --- | --- |
| Dirt track | long cruising runs, carving, natural terrain |
| Local parks | carving smooth turns, natural terrain |
| BMX tracks | Boardercross, jumps, freestyle |
| Forest | Off-piste, single track, natural terrain |
| Beaches/Open spaces | land kite boarding, motorised |
SAFETY
Always wear a helmet and body protection when riding.
Always check the area you are riding is safe for you, other people and animals.

Become familiar with the CURVA sixwheelboard on flat ground before advancing.

Avoid riding in long grass or where the surface is obstructed from view.

Check tyre pressures before use.

Check all nuts and bolts are tight and bindings are in safe and good condition before each use.

Abide by the laws in the area you are riding.

When you are riding or are near a CURVA BOARD you do so at your own pleasure and risk.

Safe Riding + Happy Riding = More Riding.



RIDING TIPS
Adjust tyre pressures to suit your weight and riding style.

Adjust or remove bindings to suit your riding preference.

Stand on your board on level ground and get used to the all round rocking and motion and leaning limits.

On a slight hill in an open area - slowly roll along practicing slowing and stopping with skid plate.

Keep on toe or heelside at a slow speed - turn uphill to slow down and stop.

Progress from tight turns to longer turns.

Ride within your limits, be safe and have fun.
Riding gives a unique experience similar to snowboarding and surfing - without the need for snow or water.

TYRE PRESSURE
Because everyone is not the same weight, has the same skills, rides the same surface or has the same preference for riding. Trying different pressures will give you your ultimate preference for the feel and ride you want.
As a guide Curvaboards factory test riders enjoy the following tyre pressures:
CENTRE FRONT
tyre 26psi
CENTRE REAR
tyre 25psi
4 x CONTROL
tyres 20psi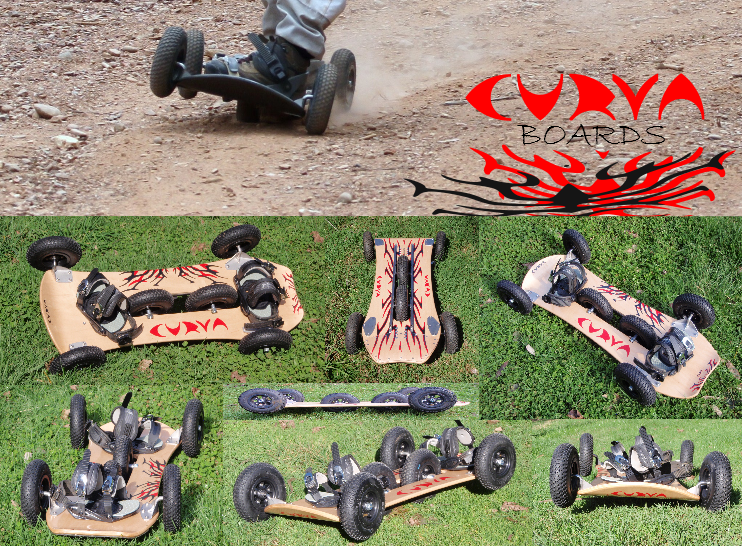 LANDBOARDING / MOUNTAINBOARDING is capable of being a dangerous activity that can cause serious damage, injury or death. Due to the nature of this product, protective equipment should be used at all times while riding - Always wear a helmet, boots, gloves, wrist guards, elbow guards, knee guards and protective clothing.
Children should always be supervised by a competent adult. Beginners should have knowledge of how to use this product in a safe manner before using. Equipment should always be properly inspected before use and should not be used if any parts are damaged, worn, missing, modified, loose or not well maintained. To reduce chance of injury, stay within your abilities and always wear a helmet and protective equipment.
Curvaboards action displayed on websites, videos, pictures, magazines, catalogues etc. should not be copied or attempted. Curvaboards have no control of content that is posted publicly. Images can be altered with technology - so what you see publicly may not be real or possible. eg. movies and advertising.
The manufacturer, distributer, and seller of CURVABOARDS products undertake no responsibility for damage, including any loss, property damage, personal or public injury or death which may be caused by the purchase and/or use of any or all of CURVABOARDS products and accessories, whether caused by accident, negligence or otherwise.
Through the purchase and/or use of any and all CURVABOARDS products and accessories the purchaser and/or user, understands and agrees to and voluntarily accepts all responsibility and any loss, property damage, personal and public injury, including death, that may be sustained, whether caused by negligence of the manufacturer, distributer and seller of this product or otherwise. Furthermore the purchaser and /or user through their purchase and/or use agrees to hold harmless CURVABOARDS manufacturing or manufacturing companies from any loss, liability, damages or costs they may incur through the use of any and all CURVABOARDS products and accessories whether caused by the negligence of CURVABOARDS manufacturing, other associated business, entity, third party, or otherwise.